El español Sergio Álvarez Moya / HOUDINI VAN DE DIJCK (KWPN de 2012, Vigo d´Arsouilles-Nabab de Reve / Oklund-Holland-Concorde-Voltaire / Damiro-Ramiro) hizo el día anterior 1-1 en la 2 Fases Especial a 1.45 CSI***** quedando 8º. Caballo hermano uterino de la yegua GISBY (Cardento) que lo hizo a 1.40 con el de los UAE Sultan Mohd Al Marzouqi. Su segunda madre lo fue de ARANA competidora a 1.60 con el irlandés Conor Swail. En 2018 compitió con el egipcio Abdel Said y el belga Valentjin de Bock en Caballos Jóvenes.
For Immediate Release
Jennifer Wood Media, Inc.
Wellington, FL – February 6, 2020 – Riding out of the 12th spot in a jump-off field of 19, Kent Farrington (USA) sped through the timers to win the $137,000 Equinimity WEF Challenge Cup Round 5 CSI5* riding Austria 2, owned by Take the High Road LLC, on Thursday, February 6, at the Winter Equestrian Festival in Wellington, FL.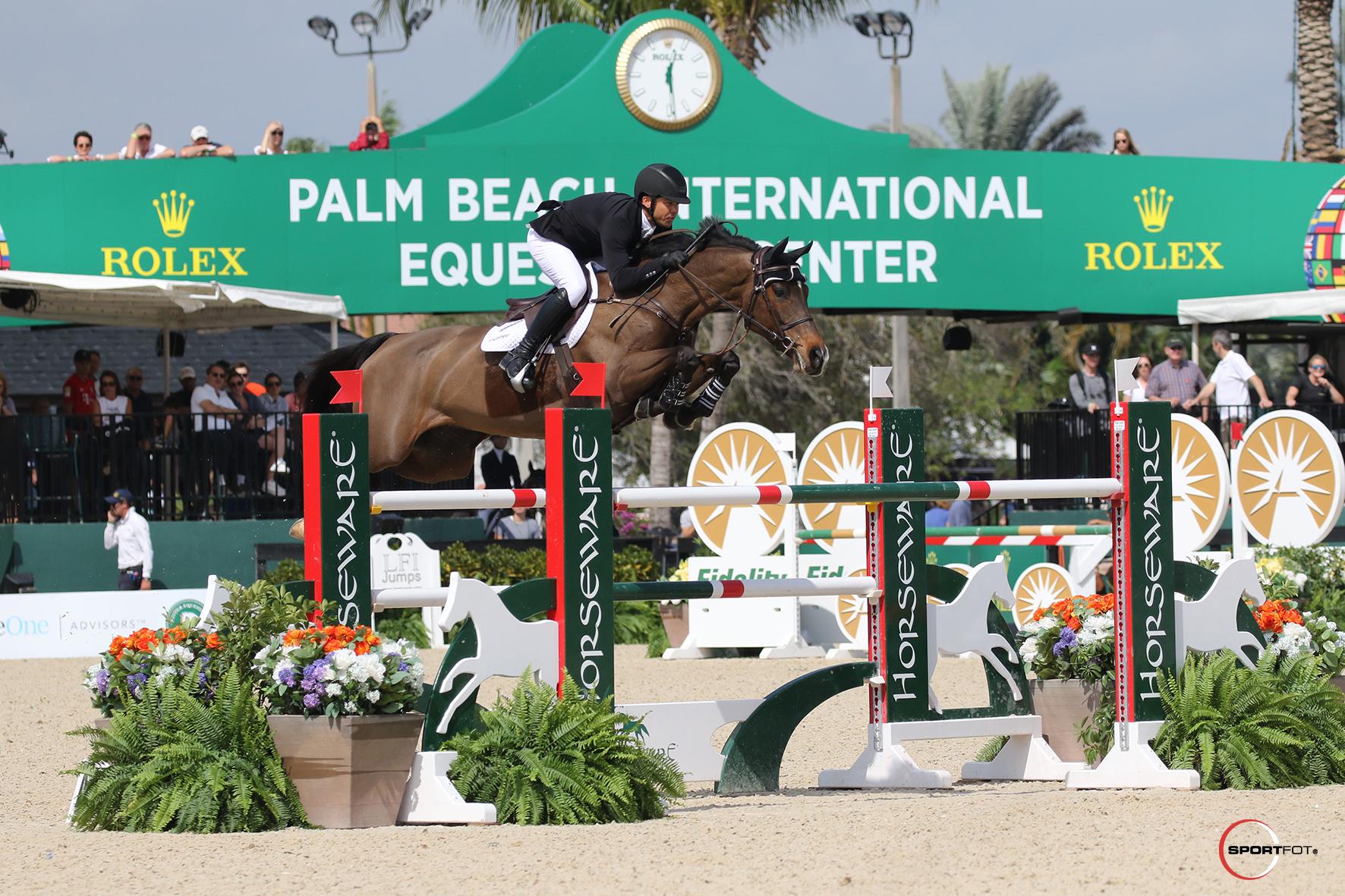 Kent Farrington and Austria 2. Photo © Sportfot
WEF continues through March 29, at the Palm Beach International Equestrian Center in Wellington, Florida, with 12 consecutive weeks of world-class competition and $13 million dollars on offer. The fifth week of competition runs February 5 through February 9, is sponsored by Fidelity Investments®, and recognized as a CSI5* and CSI2* by the Fédération Equestre Internationale (FEI).
The first round of the WEF Challenge Cup had 52 entries, and with 19 clear over the course designed by Anthony D'Ambrosio and Andy Christiansen Jr., speed was all-important. The early lead was set by Capt. Brian Cournane (IRL) and Penelope Cruz, owned by Cournane and Mr. and Mrs. Robert Stiller, at 43.15 seconds, which would hold up for fifth place. The leading time dropped down to 41.56 seconds when Olympic individual gold medalist Eric Lamaze (CAN) piloted The Chacco Kid Group's Chacco Kid around the short course. They would end on a podium finish in third place. Karl Cook (USA) and Caillou 24, owned by Helen Signe Ostby, slotted into fourth place with a jump-off time of 41.70 seconds.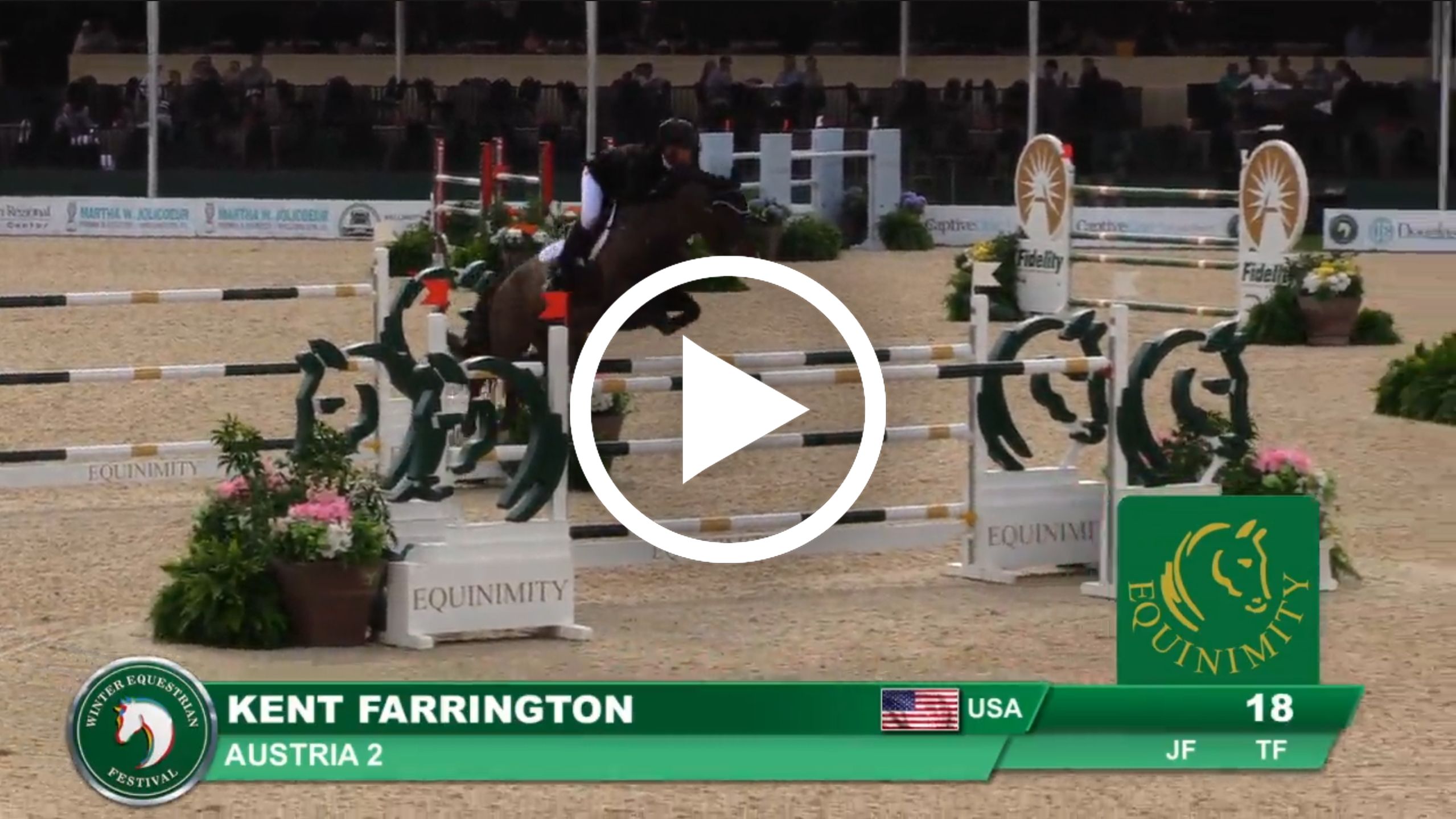 Watch Kent Farrington and Austria 2's winning jump-off round.
But it was Farrington and Austria 2 as the next pair into the ring that would set a blazing time of 40.68 seconds that would remain untouched for the remaining seven trips. Coming closest to Farrington was Adrienne Sternlicht (USA) on Starlight Farms 1 LLC's Just A Gamble, who posted a time of 40.98 seconds for second place.
Farrington always looks for improvement no matter what ribbon he takes home, and Thursday's class was no different.
"[Jumps] one to two she didn't turn as well as I'd hoped," he explained "I think I came to one with a little too much speed to turn short, so I got a little off my line. I did one extra [stride] to number two, so I kind of doubled down on my bet and went super short to the next oxer because otherwise I thought I'd be too slow. Ideally, I could have done one to two a little bit better and then I could have had an even smoother turn to number three. But she's so fast and a fighter. You can do that with horses like her. I thought I was a little bit behind, but I could ratchet it up and still catch the class."
Farrington has learned how to ratchet up not only Austria's speed, but her scope, and used her innate talent. Having taken over the ride in the spring of 2019, their first event was the Spruce Meadows Summer Series, where Farrington and Austria 2 got to know each other in the 1.30m division and ended up in the 1.50m jumpers. Her talent led Farrington to compete her in five-star grand prix classes regularly that summer, and they capped off an impressive year with 13 top-five finishes and victory in the Rolex IJRC Top 10 Final in Geneva, Switzerland.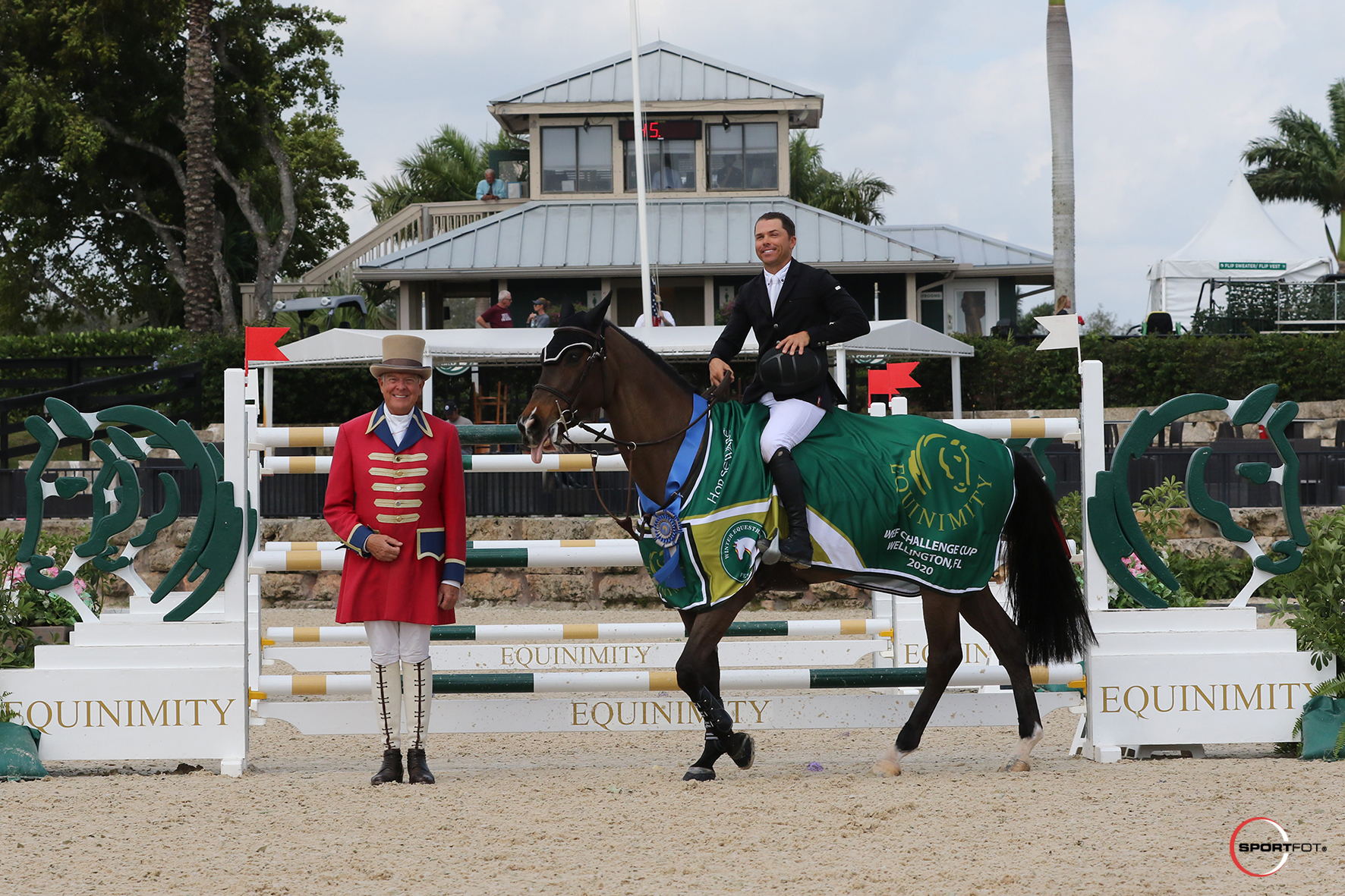 Kent Farrington and Austria 2 in their winning presentation photo with ringmaster Steve Rector. Photo © Sportfot
"I don't really feel a limit on her; she's got an unbelievable mentality," said Farrington of the 12-year-old Holsteiner mare (Casall x Corrado I). "That goes a long way, and a horse that really wants to fight for you is a huge part of the battle of doing high level sport."
Farrington noticed Austria 2 earlier in her career, since the mare's owners are his neighbors in Wellington.
"Karen [Long Dwight] and Glen are my neighbors in Palm Beach Point. We ride on the canals. It was around Christmastime and I said, 'Merry Christmas! I keep asking Santa if I can ride Austria. It hasn't happened yet but I'm hoping!'" he laughed. "After that season, they actually said, 'Hey would you like to ride Austria?' Santa came through."
What caught Farrington's eye was Austria's type. "It's a super light, Thoroughbred-type horse," he said. "That's my favorite type of horse, what I'm always drawn to. She's super careful, naturally quick, a modern show jumper. I was being a little funny talking about riding the horse, but I had no idea what it could actually do. I thought it would be a great winner at whatever level it decided to jump, but I didn't know that was going to be 1.50m or 1.55m or 1.60m. Whether she wants to do that all the time or she moves up and down, I think regardless it's a great horse and I feel very fortunate that I have Karen and Glen behind me with the horse. They've been so supportive."
Austria 2 will now have time off from competition and return during WEF 7, while Farrington's top horse, Gazelle, will compete in Saturday night's $401,000 Fidelity Investments® Grand Prix CSI5*.
Also winning in the International Arena, Canada's Jaclyn Duff topped the Rushy Marsh Farm 1.45m CSI2* riding Venus du Gue, owned by Windermere Stables Ltd. For full results, visit www.PBIEC.com.
Final Results: $137,000 Equinimity WEF Challenge Cup Round 5 CSI5*
1 AUSTRIA 2: 2008 Holsteiner mare by Casall x Corrado I
VICTORIA COLVIN (USA), Take The High Road, LLC: 0/0/40.68
2 JUST A GAMBLE: 2009 BWP mare by Toulon x Corofino
ADRIENNE STERNLICHT (USA), Starlight Farms 1 LLC: 0/0/40.98
3 CHACCO KID: 2006 Oldenburg by Chacco Blue x Come On
ERIC LAMAZE (CAN), Chacco Kid Group: 0/0/41.56
4 CAILLOU 24: 2007 Holsteiner gelding by Casall x Corrado 1
KARL COOK (USA), Helen Signe Ostby: 0/0/41.70
5 PENELOPE CRUZ: 2008 Irish Sport Horse mare by Ustinov x Peter Pan
CAPT. BRIAN COURNANE (IRL), Capt. Brian Cournane: 0/0/43.15
6 DAVIDOFF DE LASSUS: 2009 Belgian Warmblood stallion by Ugano Sitte x Origine du Mont D'or
ZOE CONTER (BEL), Stephex Stables: 0/0/43.28
7 FARREL: 2010 KWPN gelding by Cardento
DANIEL COYLE (IRL), Ariel Grange: 0/0/43.88
8 QUEENSLAND E: 2009 Zangersheide gelding by Quickfire de Ferann x Socrate de Chivre
DANI G. WALDMAN (ISR), Israeli Equestrian Group and Dani G. Waldman: 0/0/45.48
9 CATOKI: 2009 Holsteiner gelding by Catoki x Cartello B
MCLAIN WARD (USA), Marilla van Beuren, Bob Russell & McLain Ward: 0/4/38.84
10 AMEX Z: 2009 Zangersheide Mare by Andiamo Z x Landaris
TODD MINIKUS (USA), Bit By Bit Group: 0/4/41.92
11 CHARMEUR: 2007 KWPN gelding by Numero Uno x Gelha's VDL Emilion
SERGIO ALVAREZ MOYA (ESP), Sergio Alvarez Moya: 0/4/42.40
12 ENTANO: 2009 KWPN gelding by Namelus R x Numero Uno
DANIEL BLUMAN (ISR), Over the Top Stables LLC: 0/4/42.59
Jennifer Bauersachs and Another Love Capture High Performance Conformation Hunter Championship
Hunter competition during Week 5 of WEF continued on Thursday with Jennifer Bauersachs and Another Love claiming champion in the High Performance Conformation Hunter division. The duo won the model and the under saddle, and also received two firsts, a second, and a fourth in the E.R. Mische Grand Hunter Ring.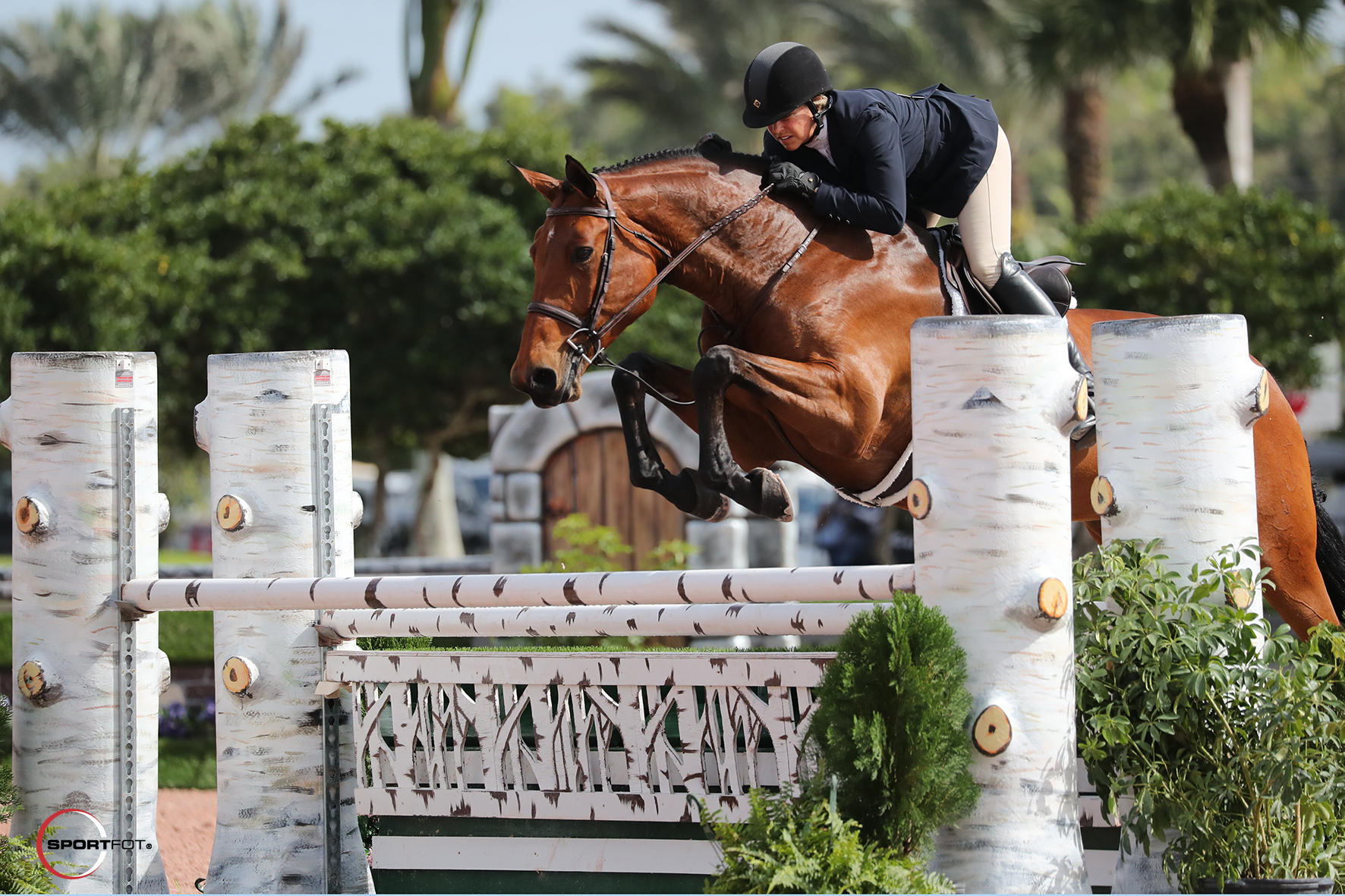 Jennifer Bauersachs and Another Love. Photo © Sportfot
Bauersachs has been partnered with Another Love, who is owned by Meritage Stables LLC, for two years Last year, Bauersachs, of Frenchtown, NJ, competed the mare successfully in the second year green hunter division. "She's really brave and reliable," Bauersachs described of Another Love. "It's fun because I can count on her and now I feel like I have a real partnership with her."
Aside from winning both the model and under saddle, Bauersachs and Another Love also scored a pair of 88s to win both over fences classes on the second day of the division. "I ended up in a rubber snaffle with her and she loved it. I think the softness of being able to ride her in that bit definitely stood out," Bauersachs commented. "I love that she's a mare! I get along with them well and when they partner with you, they really partner with you."
The pair is looking forward to competing during World Championship Hunter Rider (WCHR) Week as well as in the International Hunter Derbies running weeks eight and 12.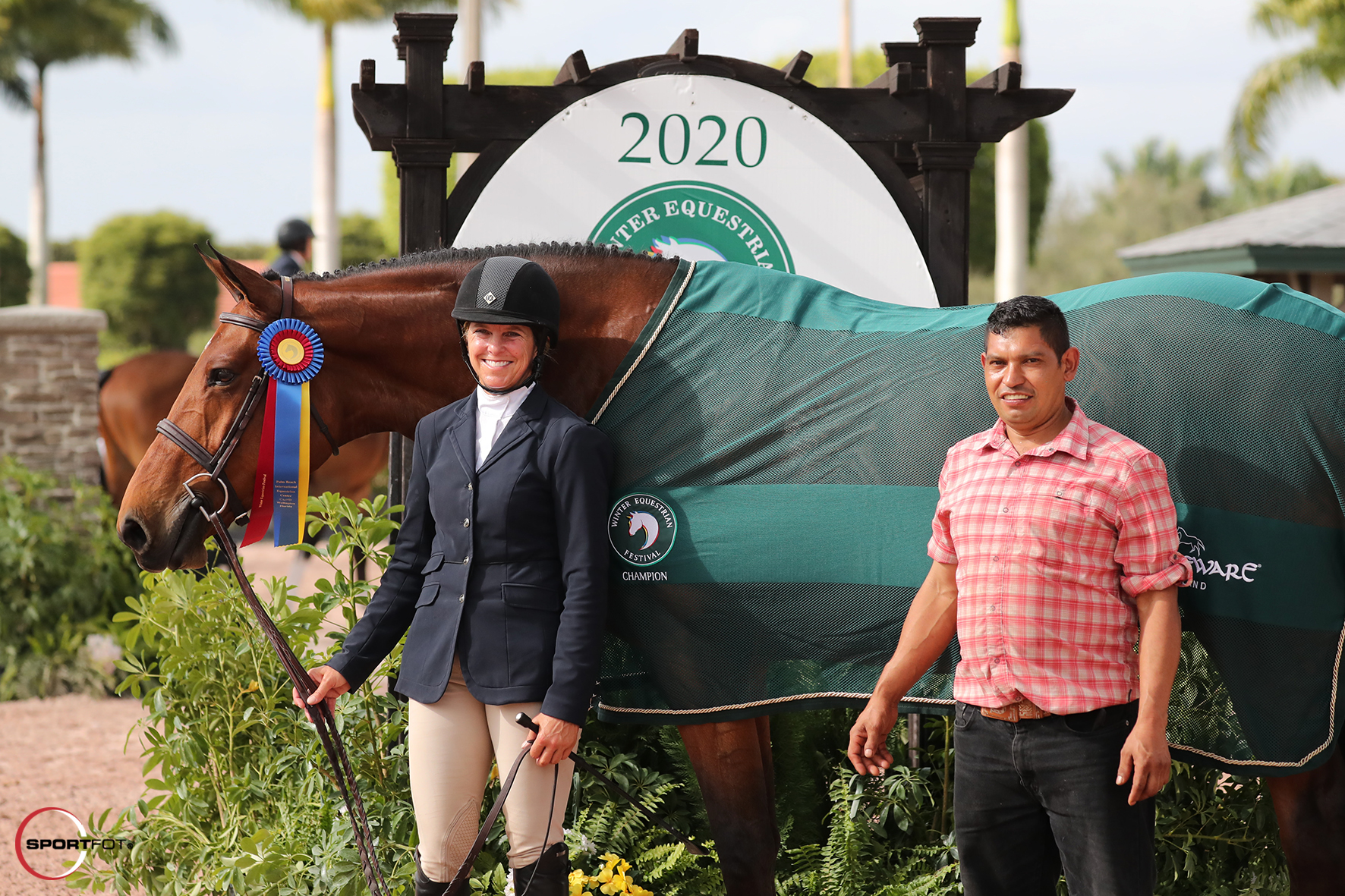 Jennifer Bauersachs and Another Love in their champion presentation. Photo © Sportfot
Reserve champion of the High Performance Conformation Hunter went to Christopher Payne and Fibonacci, owned by Still Water Farm LLC. Payne, of Cincinnati, OH, and Fibonacci received one first place, four second,s and a sixth place to earn the reserve title.
Photo credit: Photos © Sportfot, official photographer of the Winter Equestrian Festival. These photos may be used only in relation to this press release and must include photo credit.