El español Sergio Álvarez Moya hizo sin falta la prueba con HOUDINI VAN DE DIJCK.
NOTICIA RELACIONADA
7 febrero 2020.- VIDEO del estadounidense Kent Farrington que vuelve a ganar en el circuito de salto de Wellington 2020 el 6 de febrero en la prueba de 1.55 con barage CSI***** montado a AUSTRIA (yegua holsteiner de 2008, Casall-Caretino-Caletto II-Cor de la Bryère / Corrado I-Cor de la Bryère / Landlord-Landgraf-Ladykiller xx / Cor de la Bryère) con la que el año pasado ganó la Top Ten. El jinete ya ganó con CREEDANCE el GP CSI**** del pasado 1 de febrero
For Immediate Release
Jennifer Wood Media, Inc.
Wellington, FL – February 7, 2020 – Irish rider Bertram Allen showcased the foot speed of his mount Lafayette van Overis on their way to a win in the $37,000 Bainbridge Companies 1.45m CSI5* on Friday, February 7, at the Winter Equestrian Festival in Wellington, FL.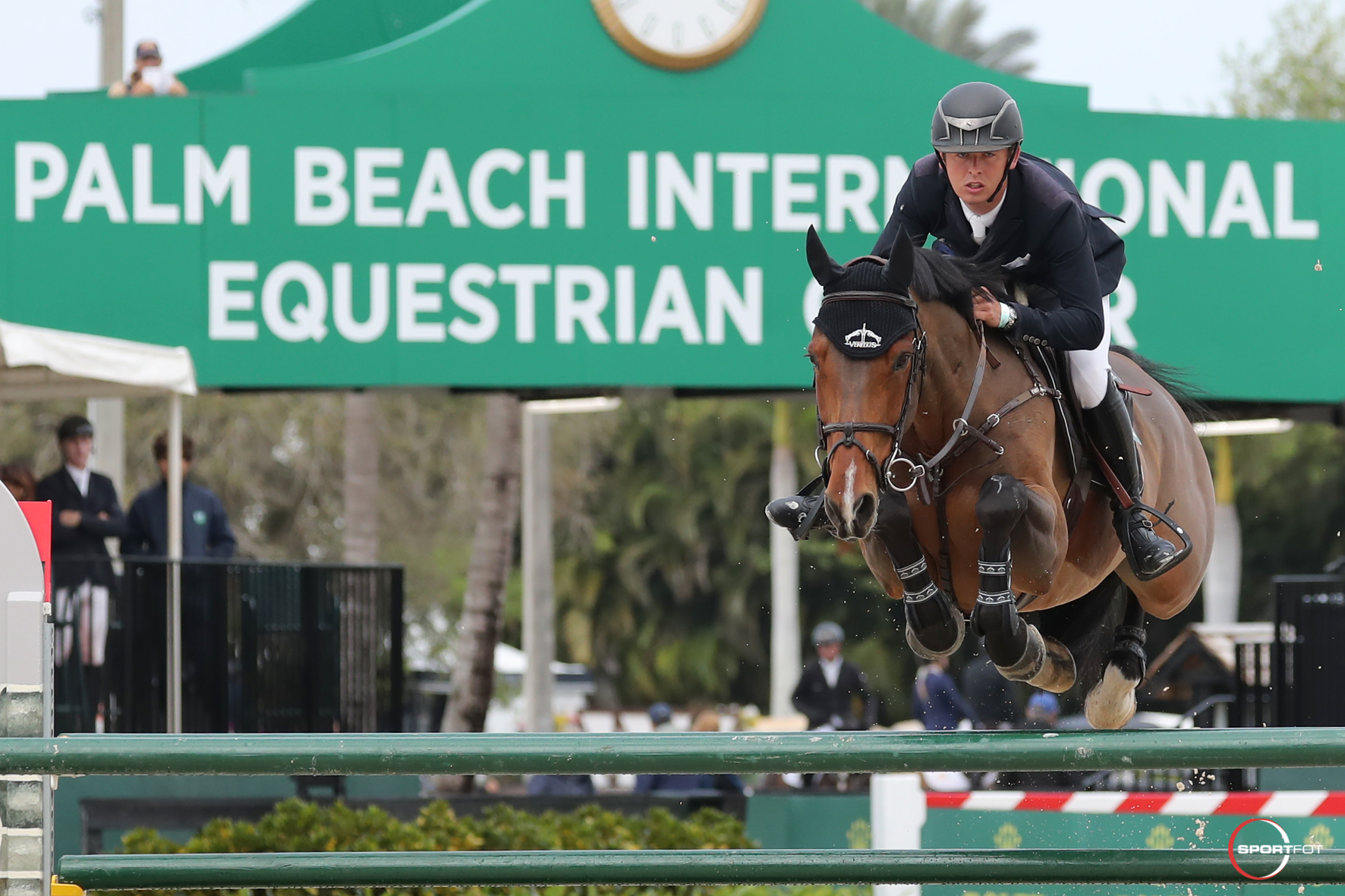 Bertram Allen and Lafayette van Overis. Photo © Sportfot
WEF continues through March 29, at the Palm Beach International Equestrian Center (PBIEC) in Wellington, Florida, with 12 consecutive weeks of world-class competition and $13 million dollars on offer. The fifth week of competition runs February 5 through February 9, is sponsored by Fidelity Investments®, and recognized as a CSI5* and CSI2* by the Fédération Equestre Internationale (FEI).
Twenty-one horses jumped clear over Anthony D'Ambrosio (USA) and Andy Christiansen Jr.'s (USA) speed track from a starting field of 53. Allen and the nine-year-old Belgian Warmblood gelding (Kashmir van Schuttershof x Tauber van het Kapelhof) posted a time of 59.91 seconds that bested Mexico's Santiago Lambre aboard his own Doloris by less than a second for the top spot. Lambre settled for the runner-up spot in 60.71 seconds.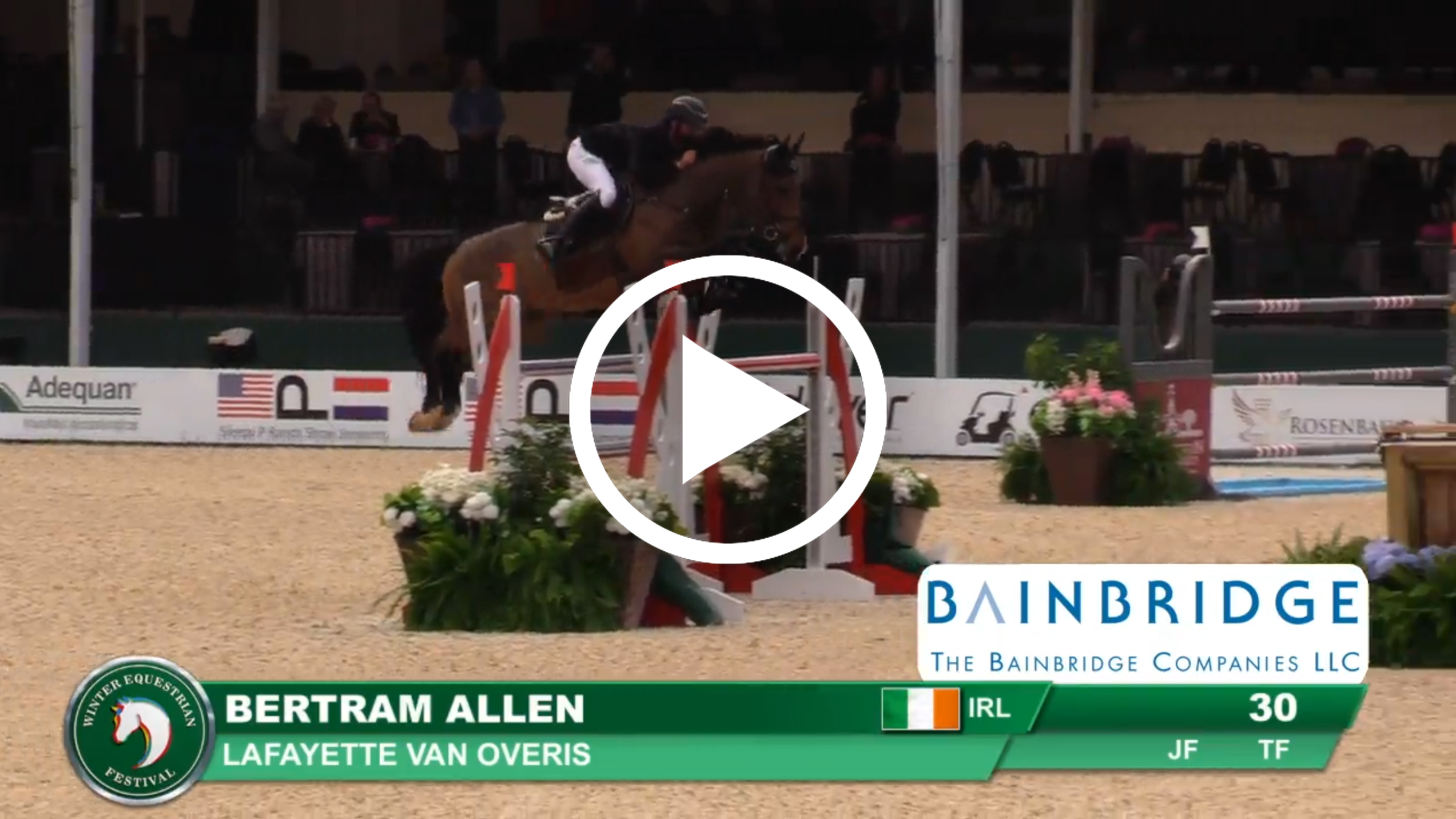 Watch Bertram Allen and Lafayette van Overis' winning round.
Allen got the ride on Lafayette van Overis in August of 2019 and made quick work of riding the horse to the top with two five-star wins at Tryon International Equestrian Center. "He was very good during my first trip to America in the fall, which was great for an eight-year-old," said Allen, who took over the ride from Great Britain's Joe Clee. "I eased off him a bit after that, and now he's back. I was delighted with him today.
"He has a fantastic brain and truly understands the sport," continued Allen with a smile. "He's very competitive, brave, and wants to do it, so I think he'll end up jumping a few bigger classes in the future."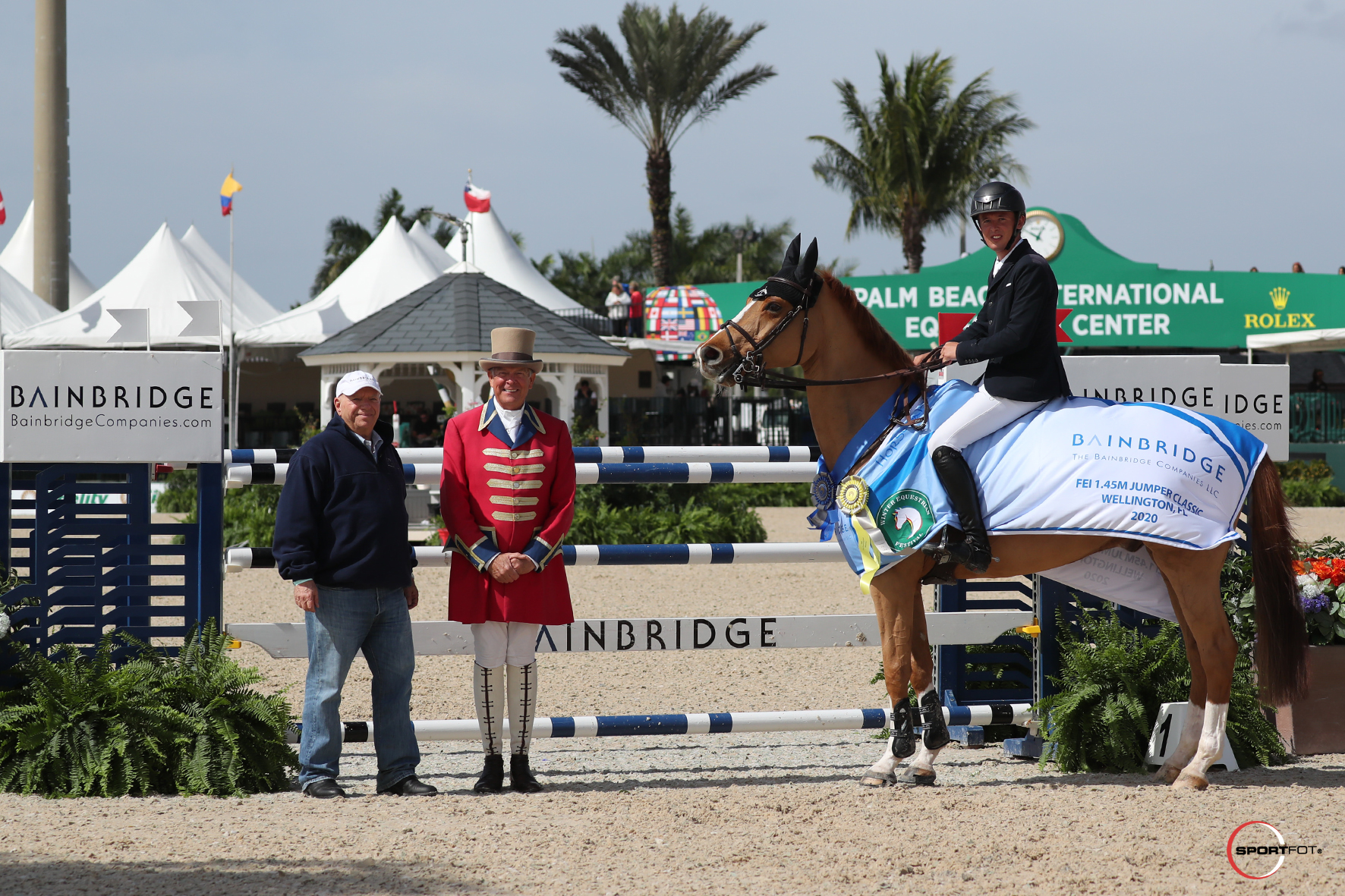 Bertram Allen (pictured on Quiet Easy 4) and Lafayette van Overis are presented as winners by Richard Schechter, Chairman and CEO of Bainbridge Companies, and ringmaster Steve Rector. Photo © Sportfot
Allen will next point Lafayette van Overis at the CaptiveOne Advisors 1.50m CSI5* on Sunday during the rider's first time competing at WEF. "We have had a very good start, and hopefully we can keep it going."
Allen pulled off a bookend podium performance by also finishing third riding Quiet Easy 4 for the Gjelsten Family with a time of 60.78 seconds. Kristen Vanderveen (USA) took fourth on Mattie Hatcher's Sebastian with a time of 60.80 seconds, while Richard Fellers (USA) capped the five on Steelbi in 61.46 seconds for owner Kathleen Waldorf.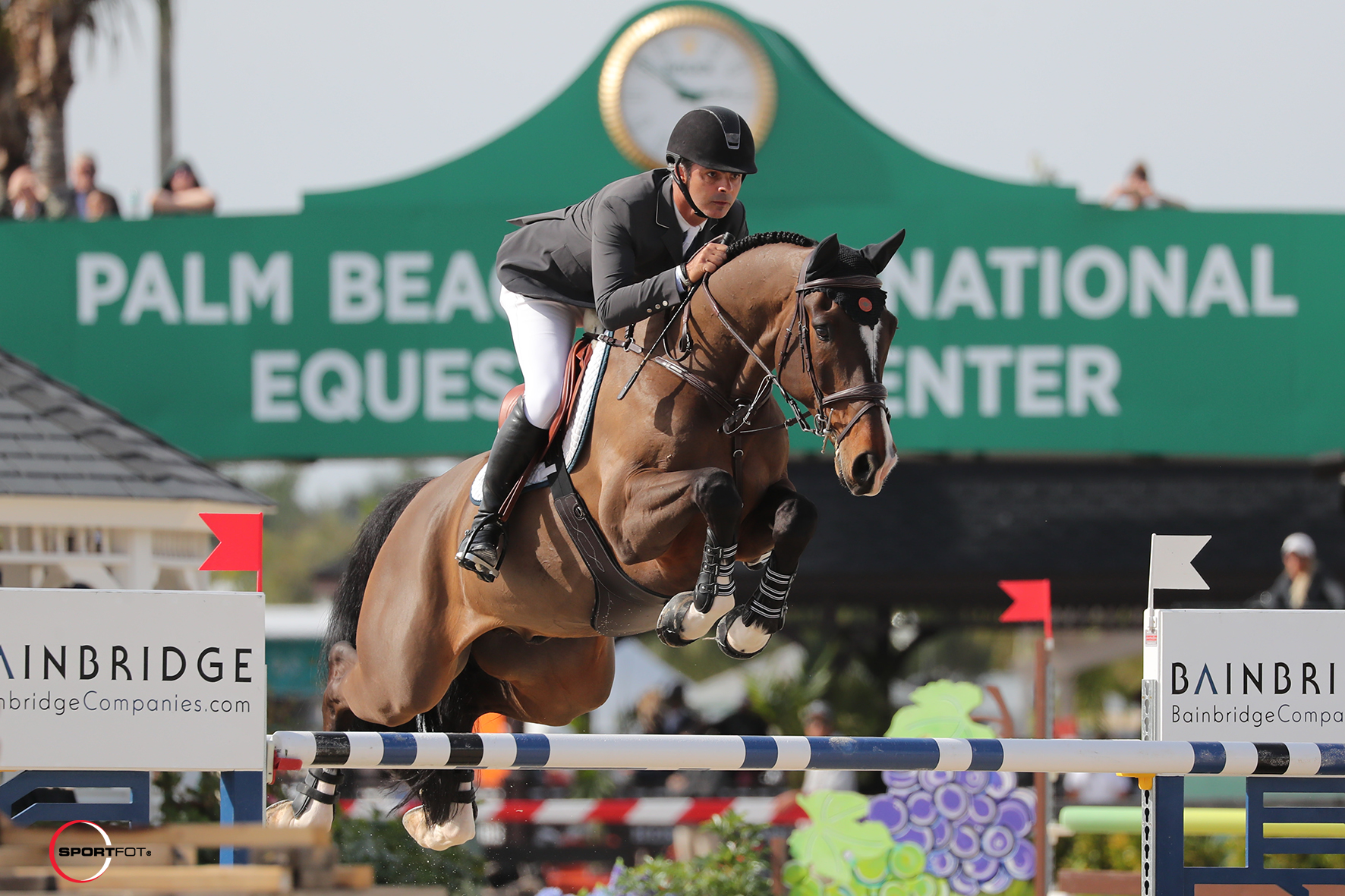 Rodrigo Pessoa and Carlito's Way 6. Photo © Sportfot
Also winning in the International Arena, Brazilian Olympic champion Rodrigo Pessoa topped the $37,000 Rushy Marsh Farm 1.45m CSI2* riding Carlito's Way 6 for owner Artemis Equestrian Farm LLC. For full results, visit www.PBIEC.com.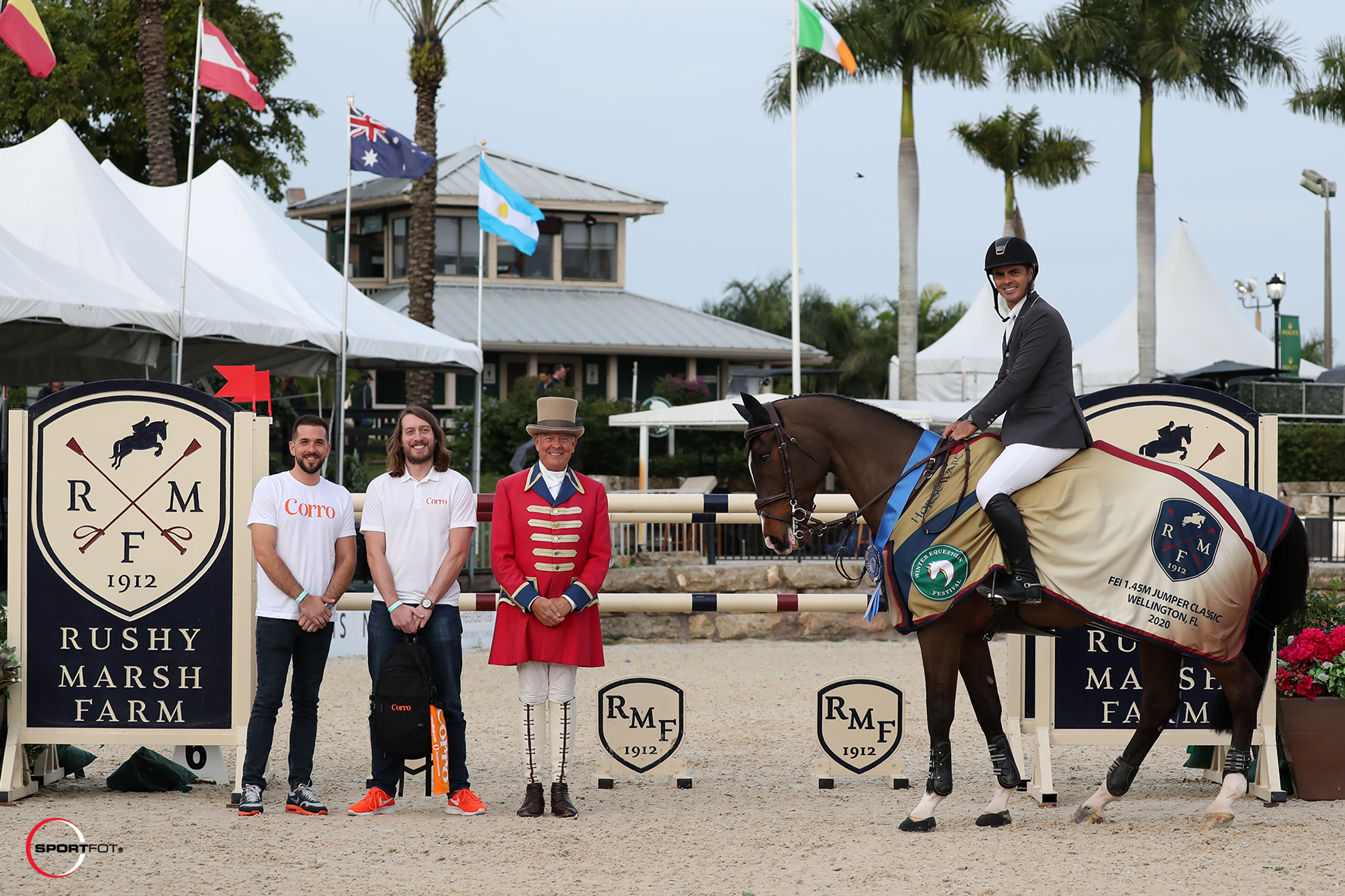 Rodrigo Pessoa and Carlito's Way 6 in their winning presentation with Tom Petersen and Drew Rudebusch, Co-Founders of Corro and also representing Rushy Marsh Farm, and ringmaster Steve Rector. Photo © Sportfot
Final Results: $37,000 Bainbridge 1.45m CSI5*
1 LAFAYETTE VAN OVERIS: 2011 BWP gelding by Kashmir van Schuttershof x Tauber van het Kapelhof
BERTRAM ALLEN (IRL), Ballywalter Stables: 0/59.91
2 DOLORIS: 2008 KWPN mare by Harley VDL x Colorado D
SANTIAGO LAMBRE (MEX), Santiago Lambre: 0/60.71
3 QUIET EASY 4: 2004 Oldenburg gelding by Quidam's Rubin x Zapateado
BERTRAM ALLEN (IRL), Gjelsten Family: 0/60.78
4 SEBASTIAN: 2007 Selle Français stallion by Lucky Boy x QuinQuin du Valon
KRISTEN VANDERVEEN (USA), Mattie Hatcher: 0/60.80
5 STEELBI: 2008 SWB mare by Empire x Stanford
RICHARD FELLERS (USA), Kathleen Waldorf: 0/61.46
6 CALVALOU: 2007 Oldenburg gelding by Calvaro F.C. x Baloubet du Rouet
TODD MINIKUS (USA), Todd Minikus, LTD: 0/62.51
7 ZANDORA Z: 2011 Zangersheide mare by Zandor x Nabab de Reve
SHANE SWEETNAM (IRL), Seabrook LLC and Sweet Oak Farm: 0/63.94
8 CATUNGEE: 2006 Holsteiner gelding by Contact Me x Liatos
CATHERINE TYREE (USA), Mary Tyree: 0/64.02
8 COPAIN Z: 2006 Zangersheide gelding by Calvino Z x Creool
CORMAC HANLEY (IRL), Heathman Farm, LLC: 0/64.02
10 QUIRIE 2: 2007 Bayerischer stallion by Quadrigus M x Quidam's Rubin
ALI WOLFF (USA), Ali & John Wolff: 0/64.55
11 GAMBLE: 2011 KWPN gelding by Vingino x Indoctro
CONOR SWAL (IRL), Asta Torokvei: 0/64.88
12 DALVARO 2: 2008 KWPN gelding by Calvaro F.C. x Glendale
CIAN O'CONNOR (IRL), NW Stables LP: 0/65.20
Cara McFadden Wins Her First WEF Blue in the EMO Insurance/USHJA 3'3" Jumping Seat Medal
Friday morning began with Cara McFadden riding Contigo 37 to the win in the EMO Insurance/USHJA 3'3" Jumping Seat Medal in the Equine Tack and Nutritionals Ring 6. The pair rose to the top in the jumping phase with a score of 84 and were also first in the flat phase of the class.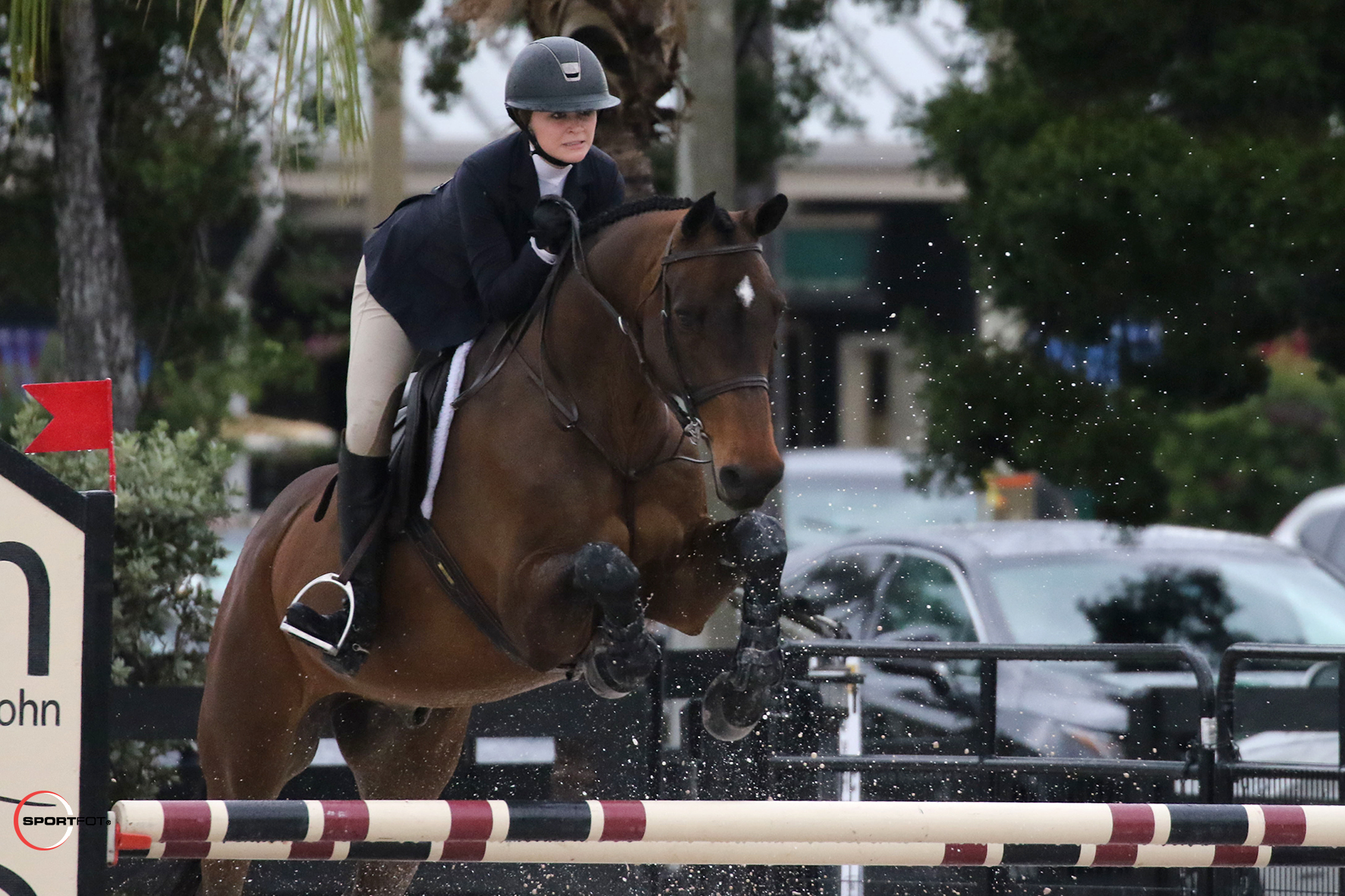 Cara McFadden and Contigo 37. Photo © Sportfot
Contigo 37 is a new ride for McFadden, who has only shown the horse twice. McFadden, of Long Valley, NJ, began leasing Contigo 37 from Beechwood Stables, LLC, only last week. The gelding had previously shown in the equitation with both Annabel Revers and Olivia Broder.
McFadden and Contigo 37 started their partnership strong by earning McFadden her first WEF blue ribbon. "He stays the same all the time. Today there was some weather, but he is always so consistent," McFadden described.
Although the weather conditions added an extra level of difficulty, McFadden, who trains with Beacon Hill Show Stables, stuck to her plan, saying, "I think with the jumping phase a lot of people had trouble getting up the lines, but Contigo listened to everything I told him and took care of me," McFadden explained.
McFadden began training with Stacie Madden and Beacon Hill Show Stables in August of last year when she decided that she wanted to do the equitation. Her goal for this winter is to stay consistent in the 3'6" equitation classes and hopefully qualify for indoors.
Second place in the Medal went to Chase Finizio, of Boca Raton, FL, and his horse Empire. The pair scored an 83 to finish right behind McFadden. Sterling Malnik, of Ocean Ridge, FL, rode her horse Charlie to a score 79.5 to earn third in the class.
Equitation competition will continue on Saturday with the THIS Children's Medal 14 and Under taking place in the South Ring. Saturday's schedule is highlighted by the $401,000 Fidelity Investments® Grand Prix CSI5* during "Saturday Night Lights" at 7 p.m. in the International Arena.
Photo credit: Photos © Sportfot, official photographer of the Winter Equestrian Festival. These photos may be used only in relation to this press release and must include photo credit.