Este resultado en la GP-Kur le suponen sumar 17 puntos más en el ranking WC de doma que le acercan más a estar en la Final de Las Vegas, y es muy posible que el jinete compita asimismo en los JJ.OO Tokio (aunque es pronto para aventurarse en el pronóstico).
For Immediate Release
Alice Collins for Jennifer Wood Media, Inc.
Wellington, FL – January 24, 2020 – The 15-strong FEI Grand Prix Freestyle CDI-W, presented by U.S. P.R.E. Association, produced a flurry of personal bests. One horse after the other rose to the occasion in front of packed crowds for the evening class under lights in week three of the 2020 Adequan® Global Dressage Festival (AGDF) at the Palm Beach International Equestrian Center (PBIEC) in Wellington, Florida. AGDF 2020 runs for 12 weeks, through March 29.
Honors were reserved for the last-to-go combination of Olivia LaGoy-Weltz (USA) and her 16-year-old Lonoir who pulled off a spectacular new personal best of 80.495%, breaking the magic barrier for the first time. Juan Matute Guimon of Spain finished second, with the rainbow of flags from different nations on the podium being rounded out by Canada's Lindsay Kellock.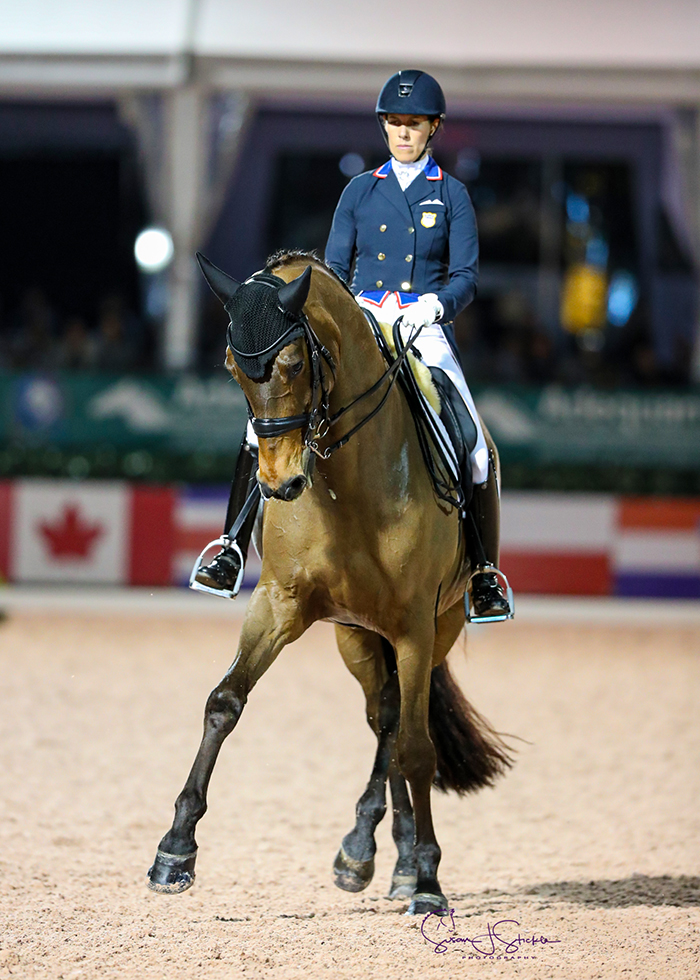 Olivia LaGoy-Weltz's long-time partner Lonoir benefits from a lengthy break to return with a plus-80% freestyle win. ©️Susan Stickle.
LaGoy-Weltz had revised her previous floorplan with the son of De Noir and increased the level of difficulty, resulting in some very impressive transitions, like extended canter into collected walk to a Simon & Garfunkel-themed soundtrack.
"We tried to choreograph it to make 80% possible," said LaGoy-Weltz, who is back in the international ring with Lonoir after an 18-month absence following a farrier issue. "We spent months setting it up for the highest degree of difficulty possible and then I just hoped we pulled off the technicality and the judges like the music.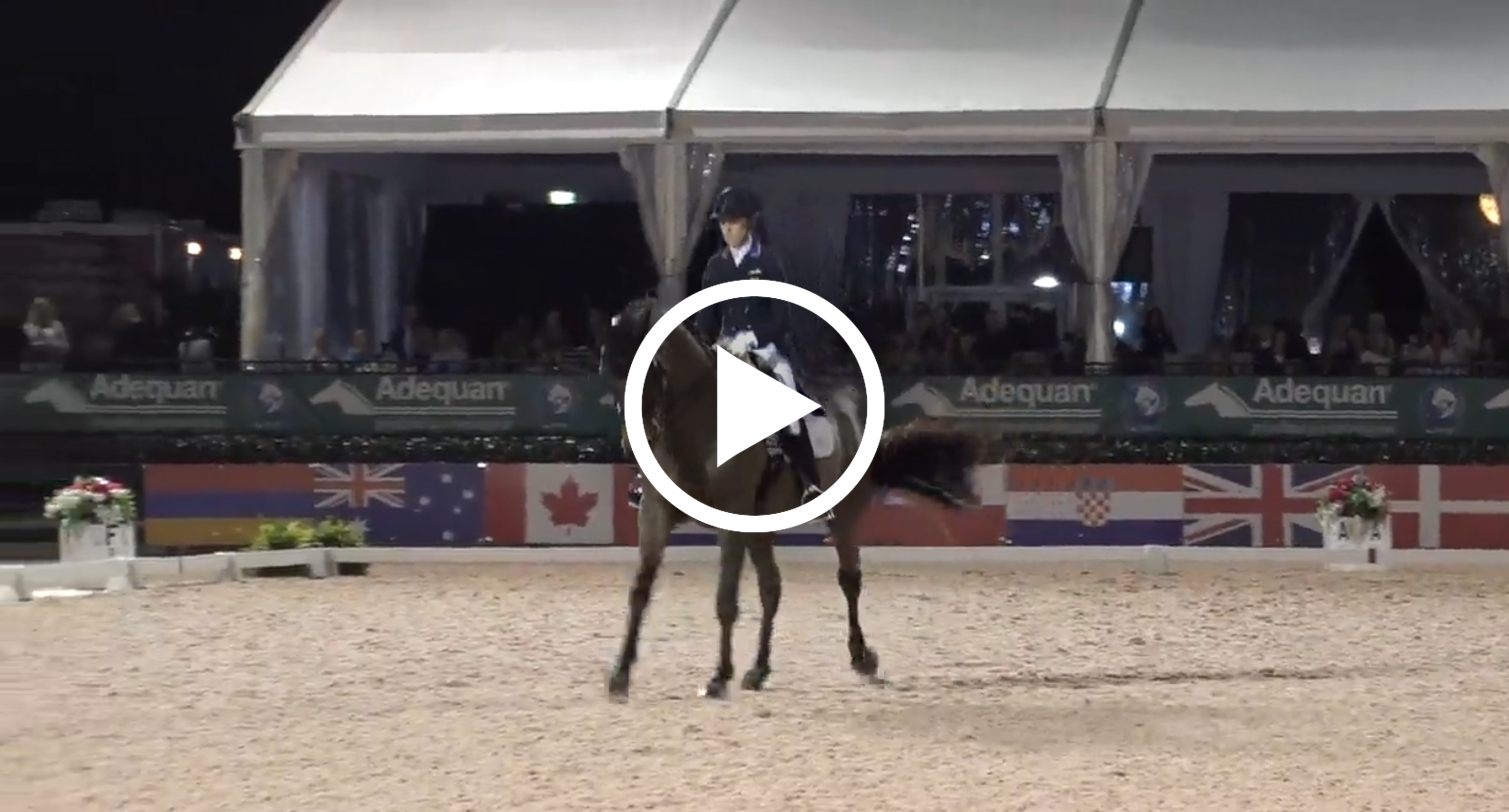 Watch Olivia LaGoy-Weltz's winning test here. Courtesy of Richard's Equine Video.
"He can be incredibly hot but he came out and handled the warm-up and the applause super well. This whole weekend for me, having not been in the ring for such a long time, I feel like we really achieved what we set out to. He's a super horse and we are just tapping into what's to come. Overall it was the perfect night."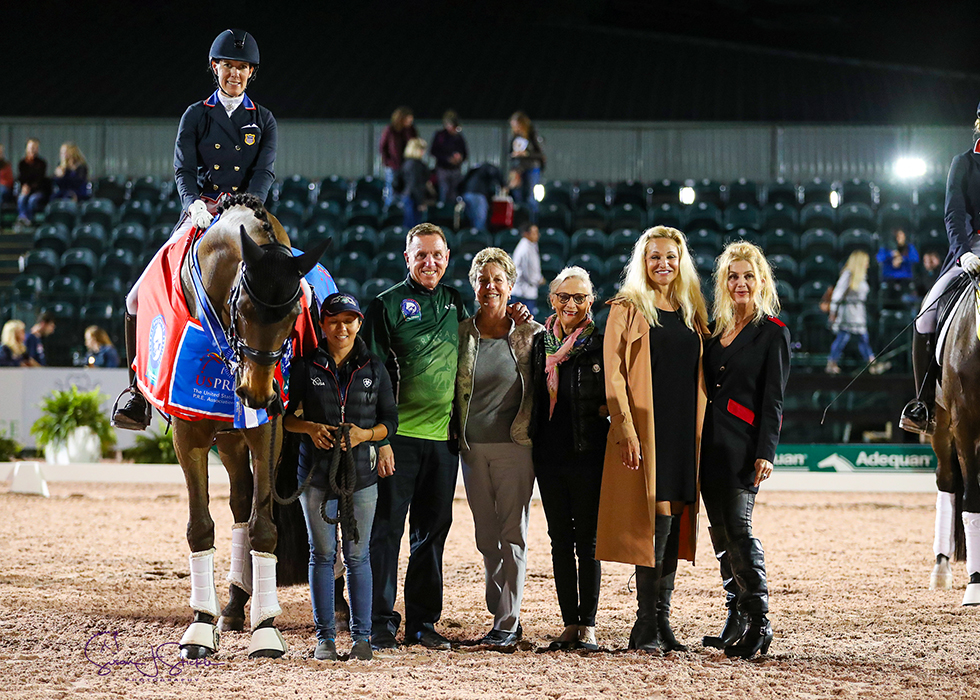 Olivia LaGoy-Weltz in the prize-giving with groom Nicole Ardito, Allyn Mann of Adequan®, judge Jane Weatherwax and Janne Rumbough, Kim Van Kampen and Jane Bistline of US P.R.E.. ©️Susan Stickle.
Matute Guimon's huge new personal best of 77.95% with his long-time partner Don Diego came in the very same arena that their pair rode their first grand prix in back in 2016. The 23-year-old came down the final center line on his father Juan Matute Snr's horse in positive two-time and then one-time changes, punching the air at the final salute.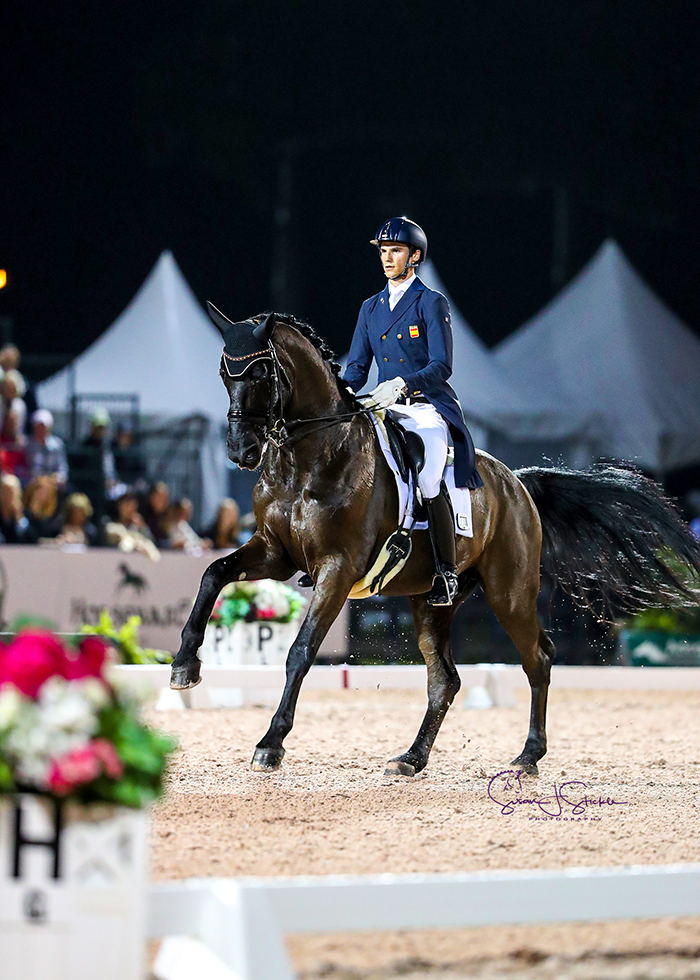 Juan Matute Guimon (ESP) is delighted with his test on Don Diego, which is rewarded with 77.95% and second place. ©️Susan Stickle.
"I was so happy," grinned Matute Guimon, who rode to a punchy Phantom of the Opera soundtrack. "I had such an unbelievable feeling from the first stride. We came with a mission to qualify for the World Cup Final in Las Vegas and this is a huge score for us, a personal best by far. I could not be more proud and thankful to pull off this performance here."
Lindsay Kellock's new personal best of 75.88% with Enterprise Farms LLC's 14-year-old Sandro Hit gelding Sebastien rocketed the pair to the top of the North American FEI Dressage World Cup League.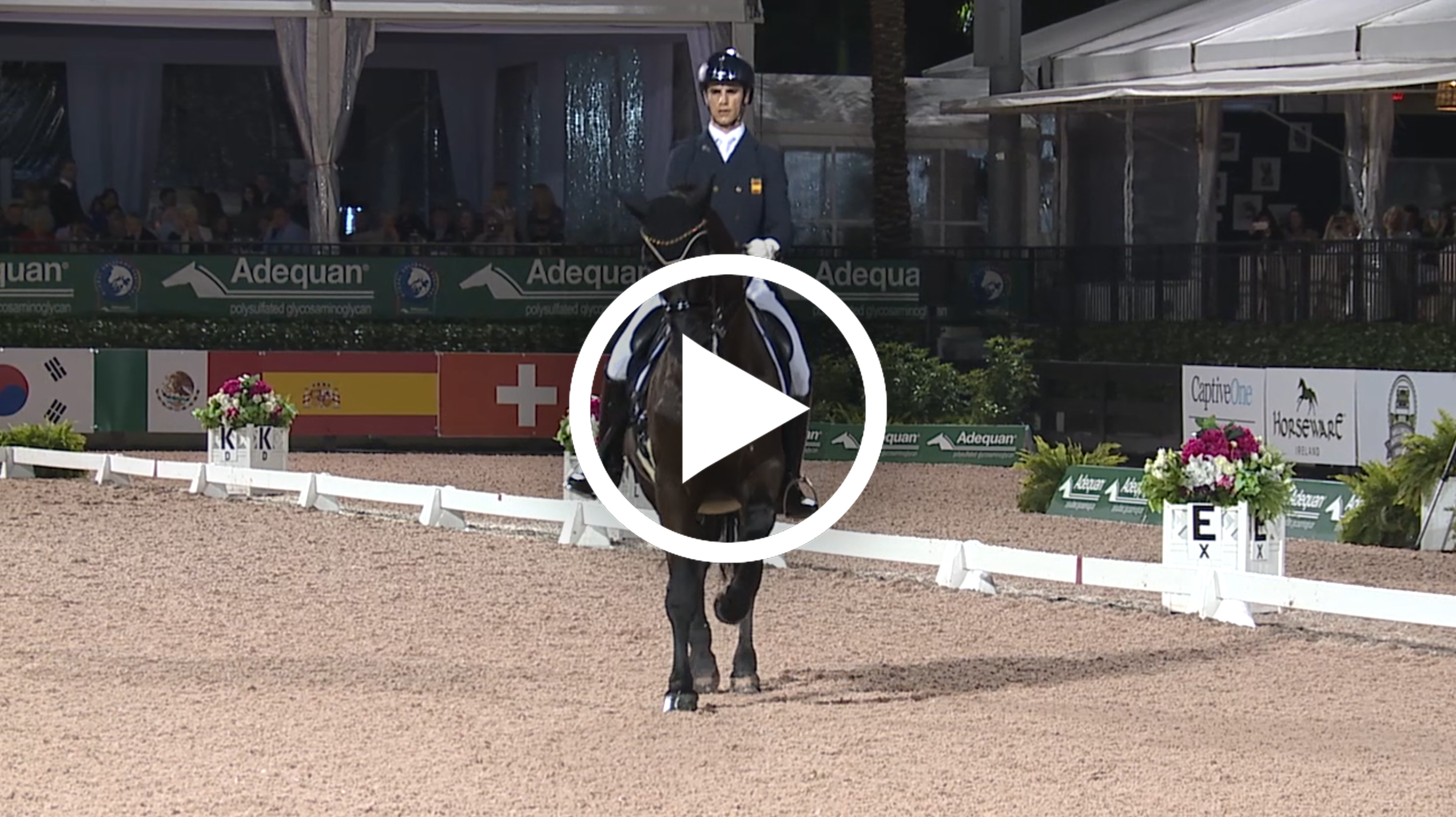 Watch Juan Matute Guimon's test here. Courtesy of Richard's Equine Video.
"He loves to perform, so when I went out there I felt the energy I had underneath me and knew he was going to do it," said Kellock, who rode to a Madonna compilation. "I made my choreography more difficult for this show and he definitely rose to the occasion; when I'm out there it feels like I'm dancing with him. We will probably do some grand prix specials now and hopefully work towards Tokyo. That's the goal."
Judge at C Jane Weatherwax (USA), who liked what she saw, said: "What I was most impressed with in this group was the harmony that was involved as well as the brilliance and the ease of being able to follow the choreography and the music for the top three. It was a pleasure to judge."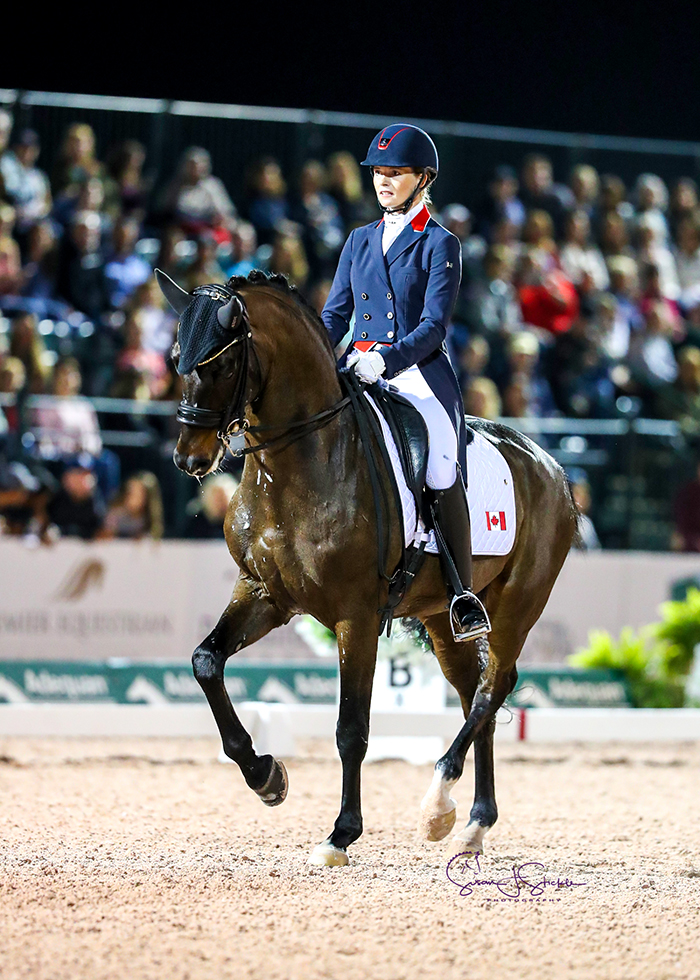 Canada's Lindsay Kellock and Sebastien, by Sandro Hit, finish third with 75.88%. ©️Susan Stickle.
Nine starters contested the FEI Prix St. Georges CDI1* class, with the youngest horse in the field claiming the top spot. Swedish rider Caroline Darcourt piloted Bon Coeur 1389 to victory with 72.882%. Lövsta Stuteri's breeding stallion, by Benetton Dream FRH, is only eight years old but pulled off a harmonious and confident test to top the class.
Home rider Günter Seidel finished second on the 11-year-old Belissimo M gelding Beltano (71.324%), with Great Britain's Susan Pape filling third on another Belissimo gelding, the nine-year-old Bourani (70.529%).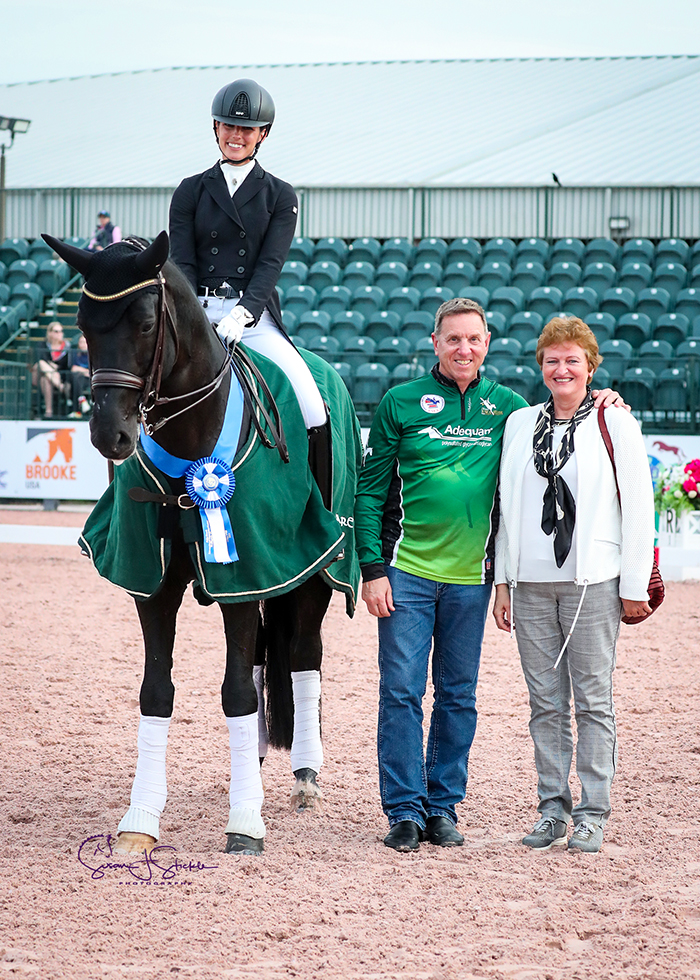 The stallion Bon Coeur 1389 records 72.882% for FEI Prix St. Georges CDI1* victory under Sweden's Caroline Darcourt. Pictured with Allyn Mann of Adequan and judge Jeanette Wolfs. ©️Susan Stickle.
In the para ranks, the FEI Individual Grade II CPEDI3* class was a close-fought affair, with the top four combinations all within less than 1% of each other. It was the USA's Beatrice De Lavalette who came out top of the tussle, scoring 67.49% on her and her family's 12-year-old KWPN mare Duna, by Vivaldi.
"We have developed a consistency; every time we do a new test or a new show, I've improved," said de Lavalette, who was the most critically injured survivor of the 2016 Brussels terrorist attack. "Today, I did what I could with what I had. We've changed a couple things, so sometimes it works and sometimes it doesn't. It wasn't the best test, but every time I get on the horse I learn something new.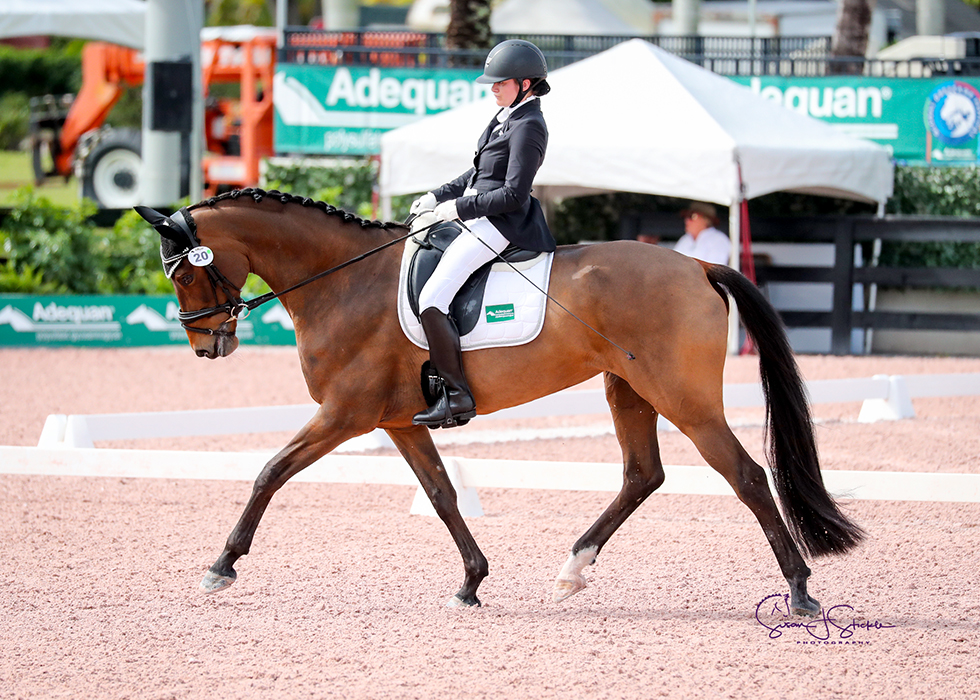 "She's a queen, but she knows when it's time to work," says Beatrice de Lavalette (USA) of her Vivaldi mare, Duna, with whom she won in the para Grade II. ©️Susan Stickle.
"I've only had her for six months, and I spent quite a lot of time in the hospital during that time which slowed the process of getting to know her, but in the last six weeks, it's been every day. She's a queen, but she knows when it's time to work," she added.
In the other three-star para classes, Grade I rider Roxanne Trunnell (USA) continued her stellar 2020 season, topping the championship class with 78.572% on board Dolton. It was also a fruitful day for Rebecca Hart (USA), who filled the top two spots in the Grade III championship test. She rode El Corona Texel to victory with 72.304%, while her other ride, Fortune 500, claimed second with 69.559%. Canada's Lee Garrod broke the American stranglehold, claiming the Grade V championship with 66.151% riding the 12-year-old Quaterback gelding Question to 66.151% and the blue ribbon.
Week three of the 12-week AGDF continues on Saturday with no fewer than 15 international classes. These include para freestyle to music classes in all grades under the lights at night, small and big tour classes, and the day's showcase class, the FEI Grand Prix Special CDI3*, presented by Blue Hors, in which Olympic bronze medalist Steffen Peters (USA) will try to replicate his win from earlier in the week on Suppenkasper. AGDF 2020 runs for 12 weeks, through March 29. For more information and results, visit www.globaldressagefestival.com.
Results
Place, rider, nationality, horse, horse information: judge E%, judge H%, judge C%, judge M%, judge B%, final score
FEI Grand Prix Freestyle CDI-W, presented by US P.R.E. Association
E, Mariano Santos Redondo (ESP); H, Katrina Wuest (GER); C, Jane Weatherwax (USA); M, Carlos Lopes (MEX); B, Lee Tubman (CAN)
1. Olivia LaGoy-Weltz (USA) on Lonoir, her own 16yo Danish Warmblood gelding by De Noir: 78.95, 79.55, 82.125, 81.5, 80.35, 80.495
2. Juan Matute Guimon (ESP) on Don Diego, Juan Matute Sr's 17yo Hanoverian gelding by Don Frederico: 80.6, 79.425, 75.725, 77.275, 76.725, 77.95
3. Lindsay Kellock (CAN) on Sebastien, Enterprise Farms LLC's 14yo Rheinlander gelding by Sandro Hit: 77, 75.35, 73.75, 76.4, 76.9, 75.88
4. Jennifer Schrader-Williams (USA) on Millione, Millione Partners' 17yo Danish Warmblood gelding by Milan: 73.6, 72.875, 73.775, 73.575, 75.675, 73.9
5. Dongseon Kim (KOR) on Belstaff Dongseon, his own 13yo Hanoverian stallion by Brentano II: 77.05, 72.7, 73.15, 72.225, 74.2, 73.865
6. Heather Blitz (USA) on Semper Fidelis, Rowan O'Riley's 14yo Oldenburg mare by Sir Donnerhall: 73.95, 75.275, 73.4, 70.55, 73.95, 73.425
7. Caroline Darcourt (SWE) on Paridon Magi, Lovsta Stuteri's 17yo Danish Warmblood gelding by Don Primero: 75.05, 74.275, 69.65, 73.25, 73.775
8. Martha Fernanda Del Valle Quirarte (MEX) on Beduino Lam, Juan Jose Del Valle Alvarado's 14yo Lusitano stallion by Dardo II: 73.05, 75.7, 71, 72.65, 69.775, 72.435
9. Rebecca Waite (USA) on Doktor, Patricia Stempel's 17yo Oldenburg gelding by Diamond Hit: 69.325, 71.6, 70.65, 72.25, 73.95, 71.555
10. Jill Irving (CAN) on Arthur, her own 15yo KWPN gelding by Jazz: 70.025, 72.225, 71.45, 70.55, 66.2, 70.09
Photo credit: © SusanStickle.com. These images may only be used in relation to this press release and with credit.